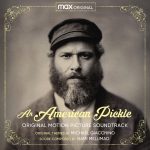 #AnAmericanPickle, starring Seth Rogen is officially released, and I couldn't be happier with the film and its kosher score. An American Pickle is showing now on HBO Max (or in theatres, if you're in the UK). The soundtrack album by WaterTower Music is available on all major platforms (Spotify, Amazon Music, Apple Music, etc). 
I was fortunate to work with the best of the best: orchestrator-extraordinaire Jeff Kryka, thank you for your genius orchestrations (genius is an understatement), Paul Apelgren, king of pun and music editing, thank you for your endless creativity and sharp ears! Dennis Sands, the god of recording and mixing- thank you for brining such breathtaking mixes. I'm also very grateful for Vincent Cirilli's masterful ProTools engineering!
Thank you to Booker White and his team for the beautiful scores & parts! Big thank you to the incredible AFM Local 47 musicians led by fantastic maestro Marshall Bowen who brought the best out of the orchestra. Very special thanks to Joshua Ranz who performed all the clarinet solos perfectly, and Belinda Broughton for her absolutely divine violin solos. You and the orchestra brought the Jewish soul into this score! Thank you so much Reggie Wilson & Connie Boylan for not only contracting the best cats in town but also for making the sessions feel like home. Thanks to the amazing team at 20Th Century Fox Newman Scoring Stage for making everything run smoothly: Erin Michael Rettig, Tim Lauber, Damon Tedesco & Peter Nelson. Also, thank you Curtis Green– you're always there, always helpful! And special thank you to Pat Sullivan for her tasty masters.
Huge thank you to the producers at Point Grey Pictures, the Sony Pictures music team led by Spring Aspers, and of course- the man with the vision and the talent: director Brandon Trost.

…And lastly, my beloved Maria M Machado & Michael Giacchino, who believed in me and brought me on board this dreamy adventure- I love you, and I'm so grateful to have you in my life. I can't thank you enough. You made my dreams come true.